The Temporomandibular Joint
The temporo-mandibular joint (TMJ) is the area directly in front of the ear on either side of the head where the upper jaw (maxilla) and lower jaw (mandible) meet. Within the TMJ, there are moving parts that allow the upper jaw to close on the lower jaw. This joint is a typical sliding "ball and socket" that has a disc sandwiched between it. The TMJ is used throughout the day to move the jaw, especially in biting and chewing, talking, and yawning. It is one of the most frequently used joints of the body.
The temporo-mandibular joints are complex and are composed of muscles, tendons, and bones. Each component contributes to the smooth operation of the TMJ. When the muscles are relaxed and balanced and both jaw joints open and close comfortably, we are able to talk, chew, or yawn without pain.
The TMJ can be located by putting a finger on the triangular structure in front of the ear. The finger is moved just slightly forward and pressed firmly while opening the jaw. The motion felt is from the TMJ. We can also feel the joint motion if we put a little finger against the inside front part of the ear canal. These maneuvers can cause considerable discomfort to a person who is experiencing TMJ difficulty.
TMJ Syndrome
Is an umbrella term covering acute or chronic pain, especially in the muscles of mastication and/or inflammation of the temporo-mandibular joint.
Signs and symptoms of Temporo-Mandibular Joint Disorder vary in their presentation and can be very complex, but are often simple. On average the symptoms will involve more than one of the numerous TMJ components: muscles, nerves, tendons, ligaments, bones, connective tissue and the teeth. (Okeson, 2003, p.191)
Ear pain associated with the swelling of proximal tissue is a symptom of TMJ.
Symptoms associated with TMJ disorders may be :

Blinking
Biting or chewing difficulty or discomfort
Clicking, popping or grating sound when opening or closing the mouth
Dull aching pain in the face
Earache (particularly in the morning)
Headache (particularly in the morning)
Hearing loss
Migraine (particularly in the morning)
Jaw pain or tenderness of the jaw
Reduced ability to open or close the mouth
Tinnitus
Neck and shoulder pain
Dizziness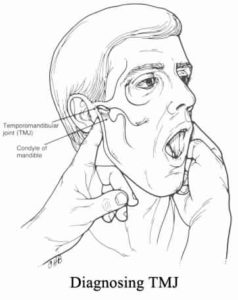 Due to the proximity of the ear to the temporomandibular joint, TMJ pain can often be confused with ear pain. (Okeson (2003), page 233).
The pain may be referred in around half of all patients and experienced as Otalgia (earache). (TuzHH, Onder EM, Kisnisci RS, 2003. "Prevalence of otologic complaints in patients with temporomandibular disorder")
Medical Clinic Dahab
Out of 441 patients, 10 (2.3%) presented with symptoms consistent with TMJ Disorder.
Main complaint was of earache with no sign of Ottis Externa
All cases responded to treatment
| | M / F | Age | R / L | Acute / Chronic | Predisposing Factor | Treatment |
| --- | --- | --- | --- | --- | --- | --- |
| 1 | Male | 42 | R | acute | water sport | exercise + pain killers |
| 2 | Male | 38 | R | acute | water sport | exercise + pain killers |
| 3 | Male | 57 | R | acute | water sport | exercise + pain killers |
| 4 | Male | 26 | R | acute | water sport | exercise + pain killers |
| 5 | Female | 35 | < R | chronic | stress | Bowen Technique |
| 6 | Female | 35 | R+L | chronic | stress | Bowen Technique |
| 7 | Male | 33 | L | acute | dental treatment | exercise + pain killers |
| 8 | Male | 35 | R | acute | water sport | exercise + pain killers |
| 9 | Female | 46 | R | acute | dental treatment | exercise + pain killers |
| 10 | Female | 35 | R | acute | stress | Bowen Technique |
Summary
10 patients
most presented with right earache
8 acute / 2 chronic
3 cases were treated by Bowen Technique (2 chronic + 1 acute)
All responded to either treatment by Bowen Technique or exercise + painkillers
Most common predisposing factor: water sport, consistent with biting mouth piece tightly in diving or snorkeling, possibly stress related
2 cases presented after having been treated for dental problems
Main predisposing factor amongst chronic cases was stress related – both female age 35
Acute
TMJ can be easily confused with earache but when diagnosed, can be treated successfully without the use of antibiotics. It is therefore advised for patients to visit GP for diagnosis.
Acute TMJ can be considered diving related as well as stress related.
Novice divers tend to be apprehensive underwater, especially about the reliability of their air supply. They therefore clamp their jaws tightly on the mouth piece, causing excessive stress on the joint between the upper and lower jaw. This can cause minor to the joint (in front of the ear), and inability to fully open the jaw.
In recreational divers this condition is usually temporary and is reversible by correcting the cause. The diver encouraged to grip the demand valve less tightly with the jaws. ("Diving Medicine for SCUBA Divers", 3rd edition, 2010)
Chronic
In chronic cases of TMJ – symptoms can be multiple, vague and sporadic.
Treatment is effective with a combination of physio/bowen technique + a jaw guard to relieve spasms occurring day or night Jaw guards are recommended and are available from the clinic.
It is recommended that sufferers of chronic TMJ return for continuing observation.
By Heikal A. Tawab; Mariam Coelet; Lorrain Horesh (2014) Temporomandibular Joint Disorder.