CLOSED FOR HOLIDAY FROM JANUARY 28th TO FEBRUARY 3rd 2018
ABOUT DAHAB CLINIC
Dr. Heikal Medical Clinic
We base our medical practice on knowledge of the patient in the context of the family and the community, emphasising disease prevention and health promotion.
Dr. Heikal created this initiative to provide medical care to the local community here in Dahab.
His mission is to ensure that all residents and visitors in Dahab are treated for their issues promptly, professionally and effectively.
General Practitioner (GP)
At Dr. Heikal's Medical Clinic, he ensures a thorough examination and diagnosis. He also offers follow up consultations if necessary to ensure that as a patient, your condition is cleared.
Donations
Dr. Heikal is committed to giving the best possible medical care for the people of Dahab and with your help he will be able to do just that. He uses the Dahab Clinic facilities to provide better healthcare for everybody in Dahab. You can also invest in our community.
Extra support is always needed, so whether you are here on holiday or are already living in this wonderful city, why not think of making a donation to Dahab Clinic?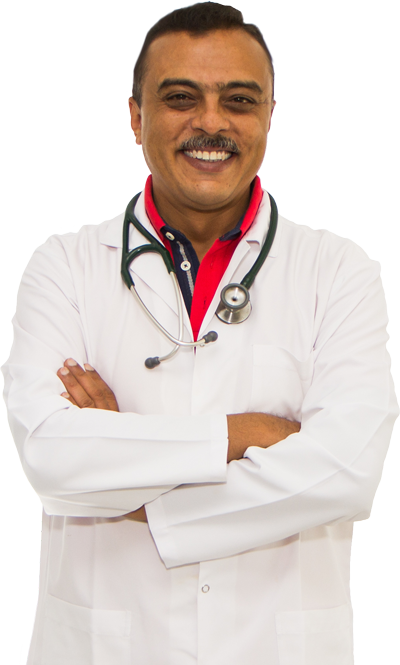 HEALTH INFORMATION
One of Dr Heikal's main goals is to promote health and to prevent and control disease in the Dahab population. He just wants all the Dahabians to "stay well and be well informed."
Many medical conditions can be prevented or minimised by maintaining a healthy lifestyle and basic dietary changes. If you are suffering of gastritis, gastroenteritis, I.B.S, or jaundice, we have put at your disposal some dietary indications that will help you to control the symp...
Immunization is one of the most effective tools for the prevention of most infectious diseases of childhood. According to the recommendations of the World Health Organization and in line with the policy of Ministry of Health of Egypt, vaccinations against certain diseases are req...
Enteric fever, also known as typhoid fever is an infection that causes diarrhoea and a rash. It is most commonly due to a type of bacterium called Salmonella typhi. It can also be caused by Salmonella paratyphi, a related bacterium that usually causes a less severe illness....
Varicella: Highly contagious primary infection caused by (varicella zoster virus), characterized by successive crops of pruritic vesicles that evolve pustules, crusts, and at times, scars, and is often accompanied by mild constitutional symptoms; primary infection occurring in ad...
The Temporomandibular Joint The temporo-mandibular joint (TMJ) is the area directly in front of the ear on either side of the head where the upper jaw (maxilla) and lower jaw (mandible) meet. Within the TMJ, there are moving parts that allow the upper jaw to close on the lower...
Inside Yassin Mall
Mashraba – Dahab
Sunday

9:30 - 12:00 & 16:00 - 20:00

Monday

9:30 - 12:00 & 16:00 - 20:00

Tuesday

9:30 - 12:00 & 16:00 - 20:00

Wednesday

9:30 - 12:00 & 16:00 - 20:00

Thursday

9:30 - 12:00 & 16:00 - 20:00

Friday

Closed

Saturday

9:30 - 12:00 & 16:00 - 20:00